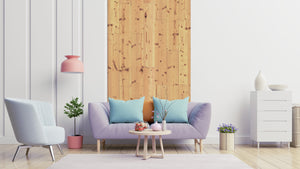 Swiss pine
Sale price Price €12,90 Regular price Unit price €72,07/ per m2
Tax included.
Shipping
calculated at checkout.
Swiss pine, one of the finest woods that we are allowed to process. A room furnished with stone pine panels lets you reminisce about grandma's room. The scent that emanates from the wood impresses with its addictive potential. Just like the optics. The warming atmosphere can be perfectly combined with rustic furnishings.
Also dare to combine the pine with modern equipment - a combination with taste and character!
Dimensions of the panels - 970 x 185 mm
Thickness - 4mm
Brushed and oiled for a beautiful look and feel
If you buy a package with 11 pieces you get a price advantage!
Interested and not sure yet? Then let us convince you with a sample of every wood panel you like!
If you need more packages than can be selected in this shop, simply send us a short email to wow@almbusch.com. We will then give you feedback as soon as possible as to whether we can deliver the additional quantity required immediately (this is usually the case).